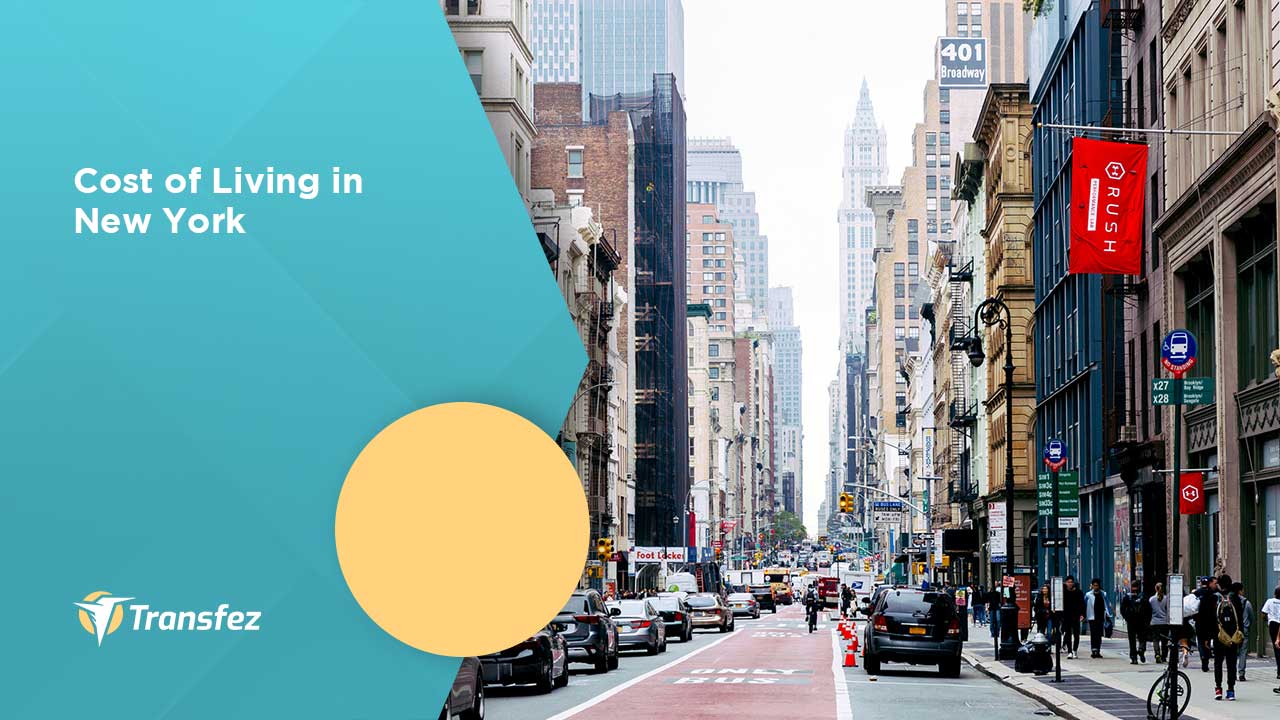 Cost of living in Ney York, United States. New York is one of the most expensive cities in the world. It is also the most expensive city in the US. Therefore, anyone who plans to move here shall consider the cost of living in New York properly. So that you can make sure of a proper living when you start a new journey in New York.
As a country with a high population, New York also notes many interesting vacancies for foreigners. Therefore, many expatriates are keen to try their luck in this city. Not only guarantee a high salary, but New York is also the best place to speed up your career. That is why this city is very famous among job hunters and become one of the purposed destinations in the world for working.
Transfer Money Easily to Different Countries
How to Transfer Money to United States
How to Transfer Money to Singapore
How to Transfer Money to China
How to Transfer Money to Malaysia
How to Transfer Money to Japan
However, with a high index of living costs, New York requires a high budget too. So that it is important to carefully calculate your financial capability before deciding to stay in the city. For those who have never experienced coming to New York before, the following is some information related to the cost of living in New York.
Cost of Living in New York for Accommodation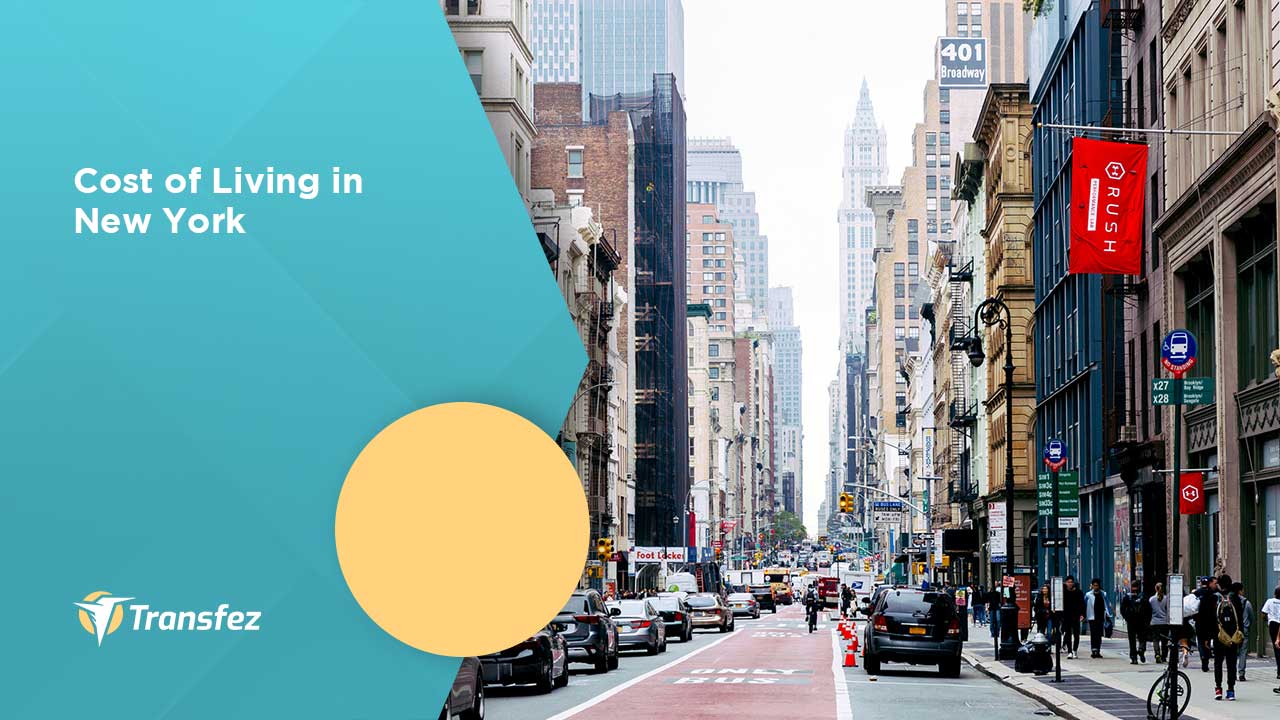 The first important thing that needs to consider is the accommodation to stay in New York. A single person can plan to stay in a one-bedroom apartment or choose to share the three-bedroom apartment with another person. As an overview, the cost of a unit apartment with one bedroom in the city is around 2,000 USD. While a three-bedroom apartment will cost around 3,000 USD.
Therefore, sharing an apartment can be more economical for those who are still single. This is also a common choice of most foreigners who take a new job in the city for the first time.
See Video How To Easily Send Money Overseas
A different way if you come to New York as a family. You need to make sure you have sufficient income to cover this accommodation. Normally, a family needs 7,000 USD per month to accommodate their expenses including the apartment rent-free. Therefore, you need to make sure that you earn enough money to cover your family here.
Cost of Living in New York for Meal
The next crucial thing to consider is the expenses for your daily meals. Having lunch or dinner outside in New York will be quite expensive. A fast-food restaurant charges 10 USD per meal, while a better restaurant might charge 17 USD per meal. It means that in one day, you need to spare around 50 USD for a proper meal in New York. This is considering very high compare to other cities in the US. Therefore, many expatriates prefer to cook at home rather than buy food outside.
If you prefer to shop for daily groceries, the cost can be reduced quite much. The following are the price of common groceries in New York City.
• One kilogram of rice cost 4.25 USD
• One kilogram of chicken cost 12.5 USD
• One kilogram of potato cost 3 USD
• One kilogram of apple cost 5 USD
• One kilogram of onion costs 3 USD
• One kilogram of bread cost 7 USD
• One kilogram of egg cost 3.5 USD
Cost of Living in New York for Transportation
Your day-to-day activities will need transportation. Mainly if you are working somewhere which far from your place. In New York, one ticket of public transport costs 2.7 USD. But, if you prefer a monthly pass, you need to pay 131 USD. A different cost if you prefer a taxi since it cost 23.8 USD per 8 kilometers. Therefore, this is more expensive than public transport.
Cost of Living in New York for School
When you move to New York with your children, you may need to count the cost for their daily school. The price for children's schools in New York is also expensive. Therefore, you need to make sure that your income will be able to cover this cost. Usually, daycare or preschool will charge 2,600 USD per child. While if you take your children to primary school, then the cost is around 2,000 USD per month per child.
Download Transfez App
Transfez App can help you transfer money abroad more quickly and efficiently. Transfez Business can also help your business in making transactions abroad. For those of you who want to send money to relatives who are abroad because they are studying, working, or traveling, Transfez will be ready to help. This app is available on Android as well as iOS.
Cost of Living in New York for Leisure
Living in New York might need some time for fun. Therefore, sometimes you need to spare your money for this leisure. There are several kinds of activities that are fun to do in New York. Such as watching the cinema on the weekend or joining a gym for some sports. Usually, a cinema ticket costs 16.5 USD per person. While the cost for a membership gym is 91.6 USD per month. Not to mention the cost to come to an amusement park and similar places. It means that you have to spare more than 100 USD per month to have some relaxing moments while in New York.
Those are all some related information about the cost of living in New York. With the above overview, hopefully, it can help to estimate your monthly expenses while you stay in the city. So that you can properly manage a good financial condition and income before moving to the city. With a proper estimate and proper income, you may live in New York appropriately.